The February Meeting for the Greedy Reader Book Club will be Tuesday, Feb 22 at 2:00 pm in room Y-233.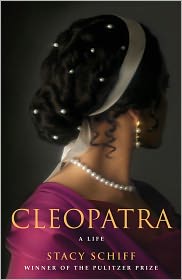 February's Book -
Cleopatra: Life
by Stacy Schiff --- DT92.7 .S35 2010
From
Library Journal
Pulitzer Prize-winning author Schiff (Véra [Mrs. Vladimir Nabokov]) offers another fine biography here. Though few reliable records remain regarding the Egyptian queen, this book peels back the layers of mystery surrounding Cleopatra and attempts to reveal a legend in her own time. While Schiff takes a few liberties by ascribing emotion to her subject, she demonstrates an immense amount of research. Her narrative does not so much bring forward anything new about Cleopatra as it presents her to the contemporary reader in a more accessible and, indeed, engrossing way. The results complement Diana Preston's Cleopatra and Antony: Power, Love, and Politics in the Ancient World, which examined the reality behind the first "celebrity couple," also with an eye to contemporary readers.
VERDICT With her new book, Schiff showcases her skill at capturing a life. Her prose is elegant but easy to read and briskly paced. In spite of extensive research, Schiff's projection of emotions and motivations onto her subject tilts the results more toward pop history than real scholarship. Undergraduates, lovers of biography or ancient history, and those seeking an introduction to Cleopatra will delight in this take on the near-mythical last queen of Egypt. [See Prepub Alert, LJ 6/15/10.]—Crystal Goldman, San Jose St. Univ. Lib., CA